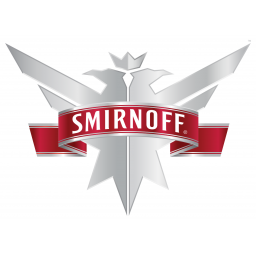 Smirnoff
On Discandooo.com you will find the best selection of delicious vodka from Smirnoff. You can get vodka that is perfect for making your favorite drinks, or to enjoy clean, 'on the rocks'. No matter how you want to enjoy your vodka, Smirnoff will be a great choice for you. Find your new favorite vodka today!
The story behind Smirnoff
Smirnoff hails from Russia, where the first distillery was established in 1864 by P.A. Smirnov.
The distillery became known for filtering vodka through coal columns more often than the competition. '' Table Wine No. 21 '' became the most successful vodka, and it quickly gained international recognition for its good taste. It is the bottle we know today as 'Smirnoff Recipe No. 21 '.
Smirnov had to close his factory in 1914 during World War I when the Russian 'dry law' came into force. With this law, the opportunities for the sale of liquor were both limited and made significantly more expensive to limit the number of full soldiers.
In 1925, Smirnov reopened when the PA's third son, Vladimir, resumed production in Nice, France. Here, the company finally changed its name to Smirnoff.
Different types of vodka
On Discandooo.com you can buy different types of the iconic bottles from Sminoff. We offer Smirnoff vodka at good prices and in different sizes. That way, you can be sure to get just the bottle that suits you.
Smirnoff Tripple Distilled Blue
A bottle you can buy on Discandooo.com is a triple distilled blue vodka. It is a bottle with 50% alcohol in it, and appears as a super-premium member of the Smirnoff family.
The vodka is produced using demineralized and filtered water that has been triple distilled and filtered through activated carbon, to achieve the smoothness and purity required before bottling.
This procedure ensures a clean taste, with a bit of sweetness. The result is a characteristic taste that is both sweet and strong, and with a touch of vanilla.
The pure taste is extremely suitable for a wide range of different drinks, such as the Moscow Mule. Where you mix the good taste from Smirnoff Triple Distilled Blue with lime juice, ginger beer, and a lot of ice cream.
Smirnoff No. 21 Red Label
Here you will find the iconic bottle from Smirnoff, with roots dating back to the year 1864. It is a vodka that is filtered through charcoal, which gives a full and soft taste, at the same time. This vodka has a longer aftertaste, which with its 37.5% alcohol belongs to the lighter part of the market.
The vodka is distilled 10 times, giving the ultimate smoothness and clarity.
It is a vodka that can be enjoyed 'on the rocks', or in a good cocktail such as a White Russian, where you mix the iconic Smirnoff No. 21 Red Label with Kahlua, cream, and a lot of ice cream.
Drinks with vodka
Vodka is a type of alcohol that works extremely well in a wide variety of drinks. Here are a few examples of what drinks you can make with the distinctive bottles of vodka from Smirnoff.
Cosmopolitan
Here you get a delicious and fresh cocktail that is fruity and sweet.
You make a Cosmopolitan cocktail by mixing your favorite vodka from Smirnoff with the orange liqueur Cointreau, cranberry juice, lime, and ice cream.
The orange liqueur comes with a good and strong taste that complements both the sweet taste of the cranberry juice and the bitter taste of the lime juice.
Together, the ingredients provide the perfect counterpoint to the slightly sweet and strong taste of the vodka. The result is a tasty and fresh cocktail that goes perfectly with the hot summer days.
Bloody Mary
If you are not that much into sweet drinks, it may be that Bloody Mary is the drink for you. Here you get a drink made from vodka, tomato juice, freshly squeezed lemon juice, celery leaves, tabasco and Worcester Shire sauce.
It is a stronger drink known as an accompaniment to brunch, or as a cure for hangovers.
Many people choose to enhance the taste by adding salt and pepper.